Inspiring special education story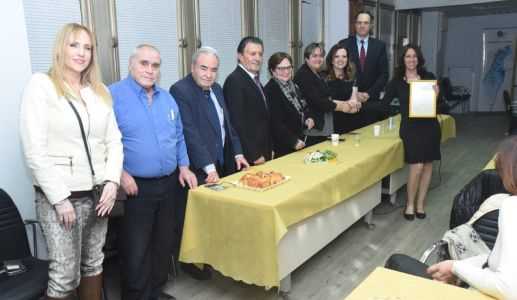 "The iPad for Every Special Education Teacher in Israel Program is Working Miracles among Students with Special Needs"

Tel Aviv, Israel, March 12, 2019. Israel's Athena Fund, the initiator and operator of the "iPad for Every Special Education Teacher in Israel" program, awarded a prize to a special education teacher from Jerusalem, who won first place in an inspiring story competition. The aim of the competition was to hear how the iPad helped students with special needs and disabilities that led them to extraordinary achievements.
The competition was held in memory of the late Amos Ilani of blessed memory, who was Athena Fund's operations and logistics manager.
The competition's winner was Dorit Menashe of the Kiah School for the deaf and the hard of hearing in Jerusalem. Dorit's story was that of a student with an intellectual disability and hearing impairment. Using the iPad, the student succeeded in communicating with his surroundings and his entire life changed.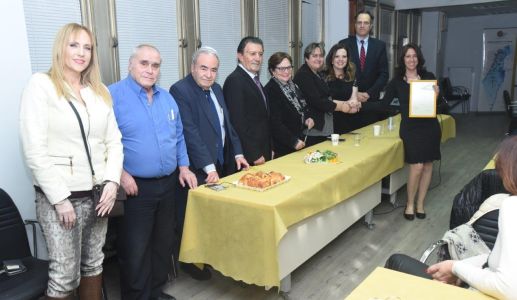 From right to left: Dorit Menashe - First Prize-winning teacher from Kiah School for the Deaf and Hard of Hearing in Jerusalem, Uri Ben-Ari - President and Founder of Athena Fund; Kathy Assayag - Executive Director of the Jewish Community Foundation of Montreal, Yaffa Ben David - Secretary General of Israel Teachers Union, Elka Ilani - widow of the late Amos Ilani after whom the competition was named, Jacob Shuri - CEO of Bank Massad, Gad Dei - Deputy Secretary General of Israel Teachers Union, Shlomo Yishay - Director General of Israel Teachers Union's Professional Advancement Fund, Edna David - Chairman of the Haifa Teachers Union Branch and Deputy Secretary General of the Israel Teachers Union (Photo: Amir Alon).
Kathy Assayag, Executive Director of the Jewish Community Foundation of Montreal, attended the award ceremony held at the Israel Teachers Union headquarters in Tel Aviv. "The Athena Fund's special education initiative, like the rest of the fund's programs, greatly advances teaching in Israel and deserves all praise," said Assayag. "The iPad program is particularly exciting because it is really working miracles among students with special needs."
"I am happy that one of the most important donors to this program is from The Sylvan Adams Family Foundation" said Assayag. "I have no doubt that the Athena Fund's programs contribute greatly to the education of Israel's young generation, which is the key to Israel's future and strength. This particular 'iPad for Every Special Education' program helps students with special needs realize their potential and integrate into society.
Menashe's winning essay describes a student with an intellectual disability and hearing impairment, who until recently was unable to communicate with his parents or anyone else. Consequently, his frustration manifested into regular tantrums. School staff tried to give him various tools for communication, without any real success. All this changed when he and his teachers received the iPads and began to use it in the classroom. The student's family were unsure that the iPad would allow him to communicate, but with the unflagging faith and work of the school staff, he began to communicate slowly. He found a way to communicate and share his feeling and the world opened up to him.
"The iPad creates wonders in special education, promotes and improves learning, and enables students with special needs to communicate with their surroundings, to learn and to develop," Menashe stated at the award  ceremony. "The boy I described in the story even managed to celebrate his bar mitzvah. I see special education as a calling, and I am happy that both my twin sister,  my daughter and my brother have also chosen to become special education teachers." Menashe announced that she will donate half of the prize to the school where she teaches.