Explosion of Colors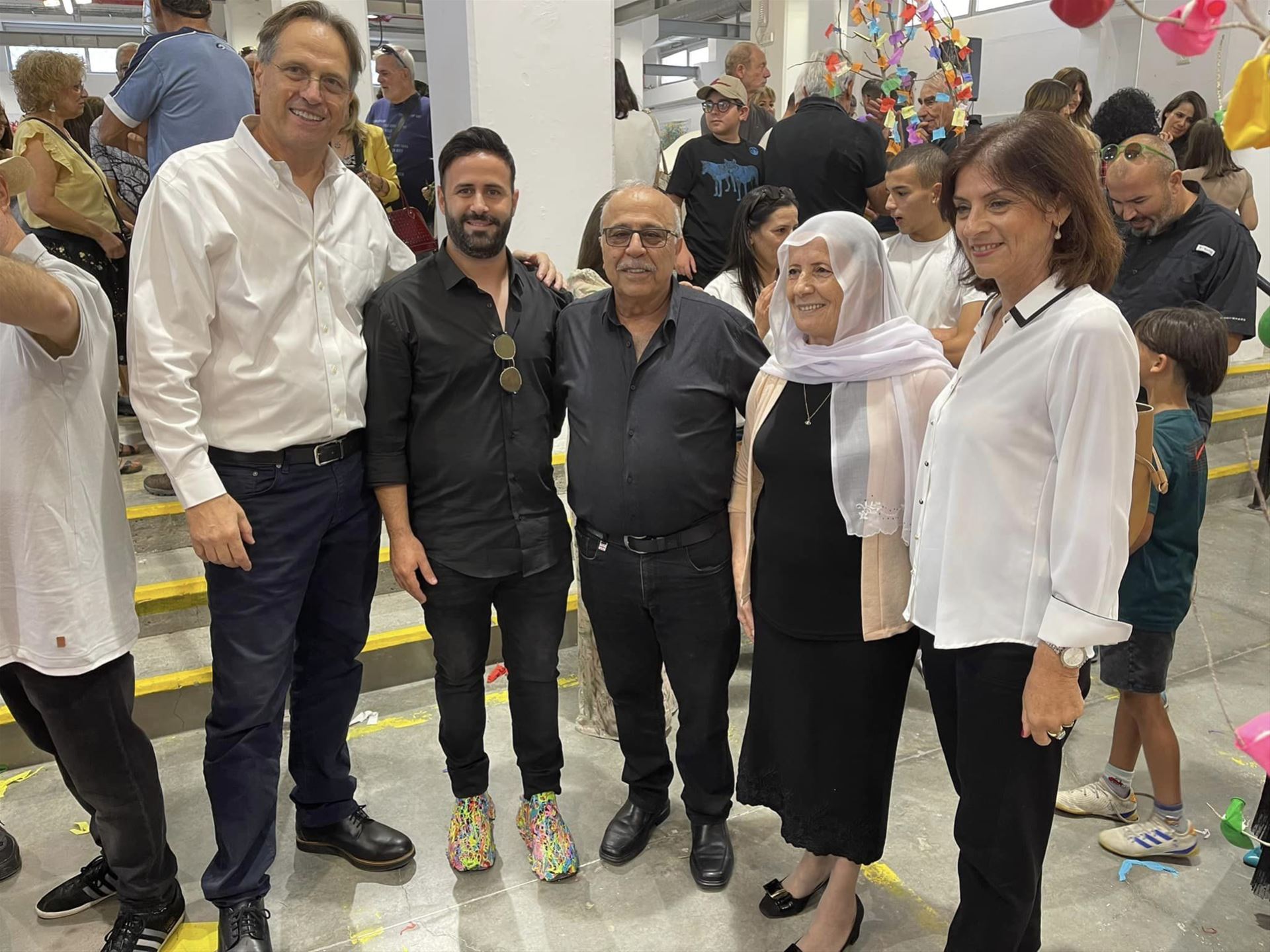 Explosion of Colors
Druze Artist Sam Halaby in Jaffa
By Basia Monka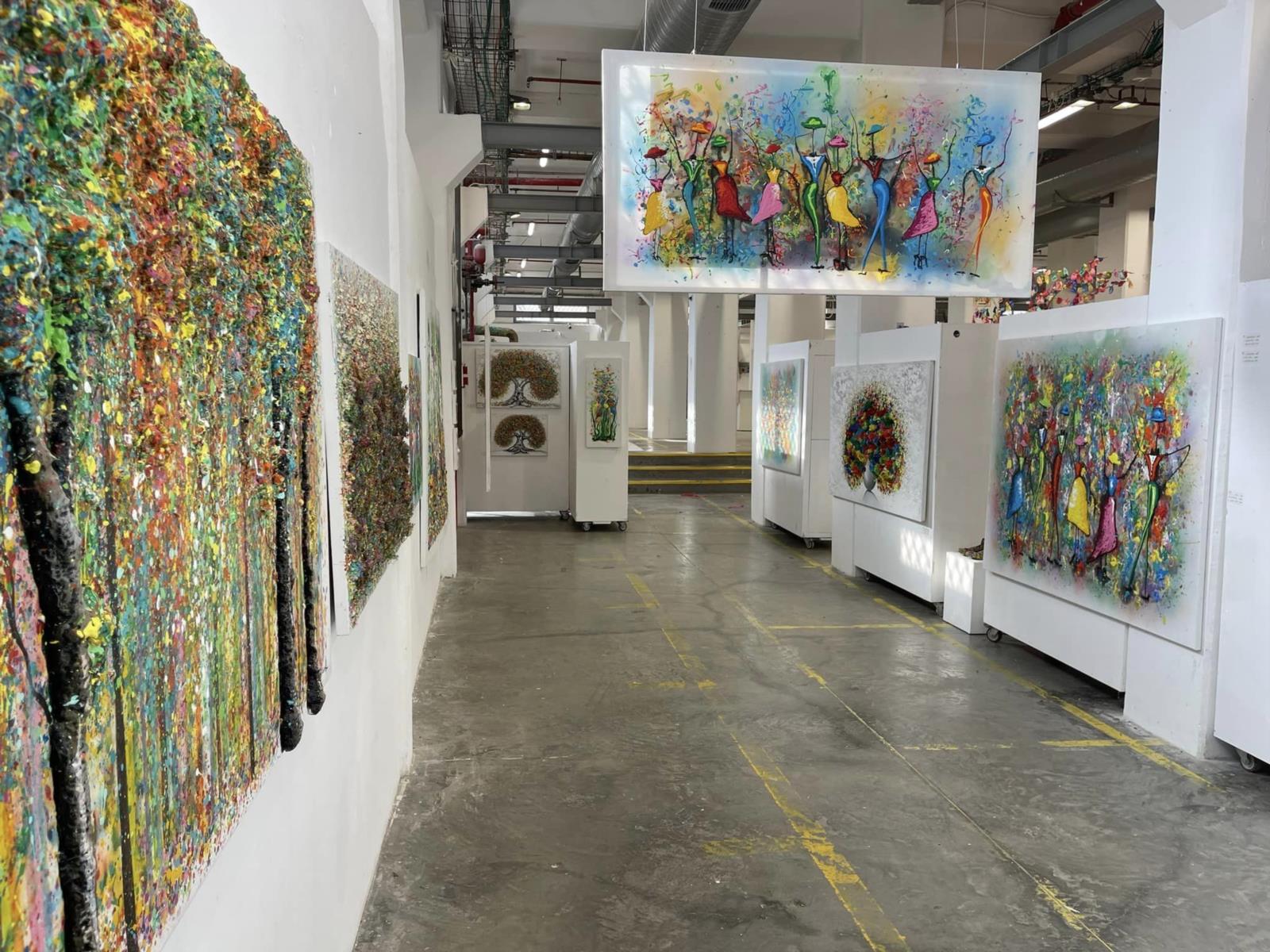 During the one week it was open (10/28-/11/5/2022), over 25,000 visitors attended FULLCOLORFULL, a solo exhibition (the first solo exhibition in a big city) of Druze artist Sam Halaby at the Amiad Center in the Jaffa Flea Market area of Tel Aviv – Yafo. The artist managed to turn the Amiad Center into a scene of colorful virtual reality.

Sam Halaby presented paintings and unusual sculptures, installations which served also as part of live performances. His optimistic, joyful, and colorful way of seeing the world made people smile, right from the entrance door.

Despite his young age, the 32 years old self-taught artist is already an accomplished and internationally acknowledged artist. He started as an unknown child artist at age of 13, and less than a decade later he became successful in selling his work. His colorful works are also accessible through galleries in the United States, Dubai and many European capitals.

Born as the tenth child of a traditional Druze family, in Daliat El Carmel (Daliyat al-Karmel), in the north of Israel, he has nine older sisters. As the only boy in the family, he was always surrounded by love and warmth. Like many other children, he liked art activities, but his mother, Emily, noticed early that there was something more in him, a natural talent. She recognized his unique skills and believed that he inherited them from his prior incarnations.

His mother had a strong faith in Halaby and encouraged him to develop his given talent: to continue painting even when his environment urged him to stop and find a more "decent profession." (Being the only boy in the big family came also with obligations; he was expected to help in providing for the family.)

Halaby recalls, that as a child, he used to accompany his mother to the market and come up with new artistic ideas, and to incorporate these into his mother's Niqabs [the large traditional headscarves Druze women wrap their upper body with]. His mother wore those Niqabs and used to sell them to many shops at the local market. Through the years, Sam bought back many of those Niqabs, since they have a strong sentimental meaning to him, being part of his memory and longing for his mother.

His late mother is still present in his memories and continues to hold a very important place in his art, including that exhibited at his latest FULLCOLORFULL exhibition at Amiad Center, Jaffa. No visitor could miss the big photographic portrait of his mother at the exhibit entrance. The Niqabs were put through different processes and had an honorary place in remembering her in the show.

The message that Sam Halaby wants to pass to his viewers is love. And it is directly connected to the memory of his mother. "The springs of love – the inspiration keeps appearing to me in the image of my mother, who passed away at a young age. Through art and painting I can make people happy; contribute positive energy, and bring back the optimism to whoever lost it," says the artist.

Halaby works in his Daliat El Carmel studio, a place he transformed into a colorful kingdom, where everything is covered with drops of paint. His art is multidimensional. He brought the same colorful optimistic atmosphere to Jaffa, and probably everyone who visited the exhibition was moved by his magical world.

Doron Polak, the co-curator of the exhibition along with Iris Elhanani, describes Halaby thus: "Sam Halaby is an autodidact artist, poet of colors, painter, and creator of new reality outside of any fashionable artistic genre. Halaby creates a new possible reality, a romantic one, in which one can avoid the lethargic day-to-day life, and focus on the beauty in front of him, joy, and an art void of color boundaries, dimension, or adaptation to a certain artistic genre. Visitors are invited to an optimistic journey in a new reality."

Halaby likes his art pieces to be in use, so during the exhibition visitors sat on the furniture and played a 120-year-old grand piano, also overpainted by Halaby. Both adults and children were enjoying themselves as they spontaneously played the piano.

The visitors walked through the "Balloon Forest": 30,000 multicolor balloons hung on dry branches and trees found and collected by Halaby himself in Carmel, north of Israel. With compassion and dedication, he gave those dead trees a new colorful lease of life. Walking between them was an experience on the edge of a fairytale, an imaginative space and a wonderland. And this was just the begging of the boundless multicolored experience provided by the artist.

From the very first steps of the exhibition, the audience could enjoy his paintings on canvas, but also on furniture pieces (which could be sat on), a car and the mentioned piano – all characteristic of Halaby technique of many layers of paint drops.

Among Halaby's artworks worth mentioning is an old car, naturally also splashed with paint. It is a driving sculpture - advertisement of Halaby's art, which can be seen on the streets. Sam Halaby also overpainted his childhood bed, his first guitar and other objects from his environment. During the opening of the exhibition, he was dressed all in black, apart from his sports shoes, painted just as everything else with multicolored drops of paint.

However, his art is not connected directly to his Druze identity, the Niqabs and the portrait of his late mother incorporated in the exposition were the symbols of his heritage. Also, as part of FULLCOLORFULL, there was a concert of Druze music and poetry readings. It was also visited by Wissam Halabi, a composer who interpreted the art of Halaby in live music. The exhibition changed into a whole week festival of optimistic art, joined by hundreds of participants at each event.

Halaby's art also shows his attachment to nature, blossoms, flowers, and trees. He is inspired by birds and landscapes of the north of Israel, where he grew up and still works. His art is full of life and happiness – leaving the viewers with good energy.

Donate