Digital Toolbox for Every Special Education Teacher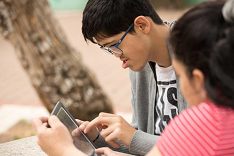 The special education frameworks in Israeli schools, from kindergarten to 12th grade, provide a solution for children with special needs. Constantly striving for personal and organizational excellence, special education teachers aim to help their students fulfill their potential – whether in special-education schools or in integrated classes within mainstream schools.
Athena Fund provides special-education school and kindergarten teachers with digital toolboxes, which include an iPad and 120 hours of professional training. Each participating school or kindergarten is equipped with wireless Internet and classroom projectors.
Through their iPads and training, special-ed teachers can expose their students to the magical world of advanced technology, help their students close educational gaps, make learning materials more accessible, and strengthen their students' social skills. Moreover, the iPads help the students communicate with their parents, teachers and environment.
An amazing video that highlights the benefits in the lives of families of children with special needs thanks to the iPad and to the training received by those children's teachers and kindergarten teachers. To watch the video please click here.
To watch a video illustrating iPad integration in special education schools in Rishon Letzion, click here.
"The iPad is a tremendous contribution to teachers, and it's very important that all teachers work with this tool and receive it as a gift. It improves. It promotes. It makes the teacher more professional. It actually enables our students – and students in general – to become part of the big wide world, part of the 21st century with all the existing technology around us, part of this revolution."
Einat Ben-David, Homeroom Teacher and ICT Coordinator, Belkind School for Special Education, Rishon Lezion
Donate