Digital Toolbox for Every Teacher in Israel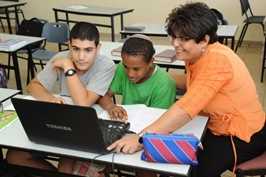 Athena Fund's flagship initiative is the "Digital Toolbox for Every Teacher in Israel" program. Launched in 2007 under the sponsorship of the Prime Minister's Office, the program has been implemented in close cooperation with the Israel Teachers Union, the Israeli Ministry of Education, and Bank Massad.
The program's goal is to provide a laptop computer and 120 hours of professional training to each and every teacher in Israel by the year 2020. These innovative and "connected" teachers will possess the advanced tools required for successfully addressing the information revolution and elevating themselves from mere "sources of information" to true "mentors."
All teachers in participating schools receive a laptop computer. Moreover, each participating teacher and principal receives 120 hours of professional training, which is recognized as a professional advancement course within the framework of the "Ofek Chadash" (New Horizon) reform of the Ministry of Education.
Each laptop comes with a three-year warranty, telephone technical support (8am–6pm), and a variety of Microsoft software. The laptops are provided on loan to the teachers for three years, after which all qualifying teachers receive their laptops as a gift. Each participating school is equipped with wireless Internet and classroom projectors.
"I prepare all my lessons using my laptop computer. Thanks to the laptop, I feel that I am a better and more interesting teacher."
Monica Arjuan, teacher, Meuchad School, Yeruham
"From 1st grade until 4th grade, I wouldn't study or listen to the teacher, and I would disrupt lessons or leave the classroom. In the middle of 5th grade my teachers received laptops from Athena Fund. After that, there were math and language games, and projects where we had to go to different websites. It was easier to learn this way than with a pencil and paper. I received high marks, and my discipline problems disappeared."
Avraham Ayalon, student, Alumot School, Afula
Donate