International Recognition
Athena Fund - Organization in special consultative status with the Economic and Social Council Since 2018

Athena Fund has received significant international media coverage worldwide. Athena President and Founder, Uri Ben-Ari, was interviewed for a cover story in China's Journal of World Education entitled, "A smart classroom needs smart teachers: Technological development advances professional development of teachers." The journal is China's only state-level publication covering the latest trends and ideas in global education.

Chen (Charles) Yidan, co-founder of Chinese Internet giant Tencent, a leading Chinese philanthropist, and founder of the Yidan Prize Foundation, which awards the Yidan Prize for education, mentioned Athena Fund in a Nikkei Asian Review article. Discussing changes that need to be made in education. Yidan cited Athena's initiatives as an example of successful implementation of advanced technology in education.

Uri Ben-Ari president and founder of Athena Fund was also interview for the leading Chinese education magazine Journal of World Education.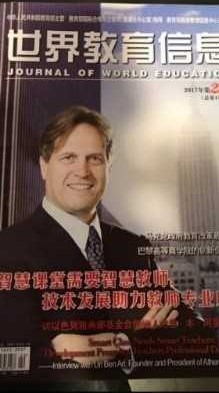 Based on its familiarity with Athena Fund; UNESCO has recommended implementing its programs in other countries.

Ben -Ari has lectured on Athena Fund's success at several UN international conferences on technology in education in Europe, Africa and China. In addition, he has spoken at the international Women's Forum for the Economy & Society in Paris in 2017 and at other global conferences.
Donate